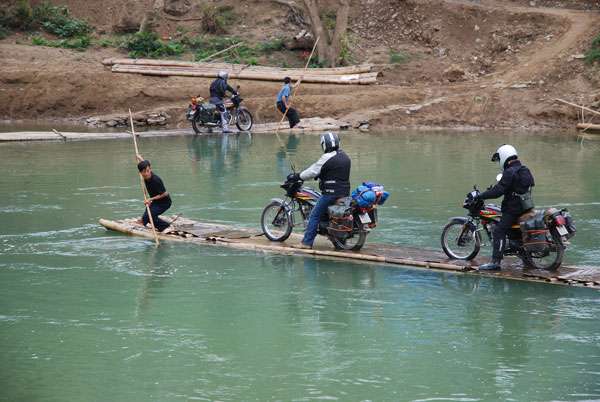 Crossing the river with motos
How to travel on a motorcycle in Vietnam?
Travel in Vietnam on moto , why not if you are a fellar who love adventure and freedom ! It's the Best way to see the Vietnam off beaten track ! Also,

it's the way to get closer to people and live their daily life as you know that Vietnamese people run motocycle everyday …
Even for a hundred meters, Vietnamese hardly walk and mainly used the bike to get around. For a real immersion in the country, an experience motorcycle is a must !
Make a motorcycle ride in Hanoi or Saigon, it's sound crazy but it's fun
If you're not ready to go by your self ina motocycle , then

you can always seek the services of a "xe om", a kind

a motorcycle taxi. If you are more adventurous and ready to face the motorized crowd of Hanoi and Saigon, it is quite possible to rent a bike to get around. Check yoru bag to see if your guide or your map are there

before starting tour, it will be impossible not to get lost in the small streets of these cities . For those who spend little time in Hanoi or Saigon, but who want to experiment in these megacities, the easiest way is probably to take at least once a "xe om", believe us, you will remember this adventure between the pedestrians, cars and other bikes.
Make sure that you get Vietnam visa here
https://www.facebook.com/vietnamvisaminhanhtravel
before every preparation for this adventure !
For the bigger aventures, take a moto then upfront to the big North of Vietnam with must-see destinations like Maichau, Son La, Laichau, Sapa, Bac ha, Hagiang , Caobang…

V

ietnam and especially North Vietnam will excite you. This is a game fairly easy access, suitable for meetings with many ethnic minorities and the discovery of breathtaking scenery. Mountains, valleys, rice fields, lakes and waterfalls ... will leave you speechless. We believe that the bike is also the best way to discover the mountainous regions of North Vietnam, because you feel much closer to nature than behind the windows of a car and you stop easily as you see fit.



What is the best motocycle for your trip in Vietnam ?
Minsk , 125 cc, strong, robuste, easy to repair, cheap price , goos for off road
Honda 250 CC robust, trustable , fast, efficient , good for off beaten track tour
Honda 110 CC cheapest one but trustable , easy to drive, fast, efficient , light, good for flat road
Here are the tour idea for a

tour or excursion on a motorcycle in northern Vietnam

Motorcycle trip of 7 days and 6 nights in Vietnam
Day 1: Hanoi - Nghia Lo
Go direct to Nghia Lo 200 km from Hanoi . The landscape of the region is known for its beauty, especially when the rice changes color. The air is clean and the area still somewhat influenced by the effervescence in the lower delta plains. Take the road to Son Tay, after which the road becomes even more pleasant. Just before the town of Nghia Lo you can

turn on Suoi Giang located about 1000 meters above sea level and inhabited mainly by the Hmong. The site is famous for its tea plantations, the oldest old have 300 years.
Day 2: Nghia Lo – Tram Tau - Mu cang Chai
Excursion this morning to Tram Tau ,west of Nghia Lo. The scenery is beautiful and wild. The H'mong ethnic group is the majority in this environment of mountains and forests.
Then go to Mu Cang Chai a few 50 kilometers away. This road is one of the most beautiful in Vietnam. The scenery is gorgeous: the magnificent views, including Khau Pha Pass, rice terraces and many ethnic villages are all opportunities to stop along the way. This region has it been classified as national natural heritage.
Day 3: Mu Cang Chai - Sapa
The road passes through several passes and along the chain Hoang Lien Mountains. Visit some villages or market at

Tam Duong. The road then climbs to cross the highest pass in Vietnam, the Tram Ton Pass) 1900 meters. Arrive and transfer to Sapa Hotel. Explore the city on foot the rest of the afternoon the market, Ham Rong Mountain, which dominates the city and the valley ....
Day 4: Sapa - Bac Ha
The road is rocky and sometimes impractical in case of heavy rain and mud. The rest of the day go walking in Ban Pho village close to the city
Day 5: Bac Ha - Luc Yen
Visit an ethnic market in the area of ​​Bac Ha. There are markets almost every day of the week, each village has its own market day. The surrounding countryside from the Hmong origin flowers, Phu La, Tay, Black Dao, Nung, Giay and other ethnic groups, come to exchange all kinds of goods: loose tobacco, silk, utensils of all kinds, pigs living, horses, dogs ...It is always a great opportunity to discover the local economy and to observe this weekly meeting time, the guardian of social ties between minority ethnic groups often living in remote areas. Ride down to Luc Yen area



Day 6: Luc Yen - Vu Linh



Visit

beautiful scenery of the Thac Ba lake and its hundreds of islands and visit villages along the way. Reach the

village of Ngoi Tu Dao Quan Trang where we spend the night in the stilt house of a family in the village. Thac Ba Lake is an artificial lake created to supply the hydroelectric dam located in the city of the same name. Valley flooded by the waters there are still many peaks formant hills hundreds of islands providing a certain charm to this lake. It is now an important food reserve for the entire region. Dao who live at the lake have a special way of driving their boat. They are rowing with his feet.
Day 7: Vu Linh - Duong Lam - Hanoi


Back to hanoi then stop at

Duong Lam, representation of former villages of the countryside of Red River Delta with its red brick walls and ferruginous rocks. It includes the village gate, the town hall, pagodas, temples, wells. The oldest building is 400 years old and the site is a national historic relic. Reach Hanoi in late afternoon.